Entity Types, Entity Attributes
In ReachOut, entity types are a way of categorizing different asset types or asset categories that need to be inspected or maintained post-installation. You can specify an Entity Type by defining it with custom attributes. For example, attributes might include: model number, serial number, and capacity.
Creating Entity Types & Attributes
You can define entity types with numerous custom attributes by going to:
Settings > Customization.
Select Entity Types from the tab and click on + Entity Type.

Add Entity Type Details.

Enter a name for the entity type.
Select a Form from the dropdown.
Add Attributes. Choose a Textbox or Dropdown to define them.
Check the boxes Mandatory and Enable in Mobile, if needed.
Add more attributes by clicking + Add Attribute.
Click Save.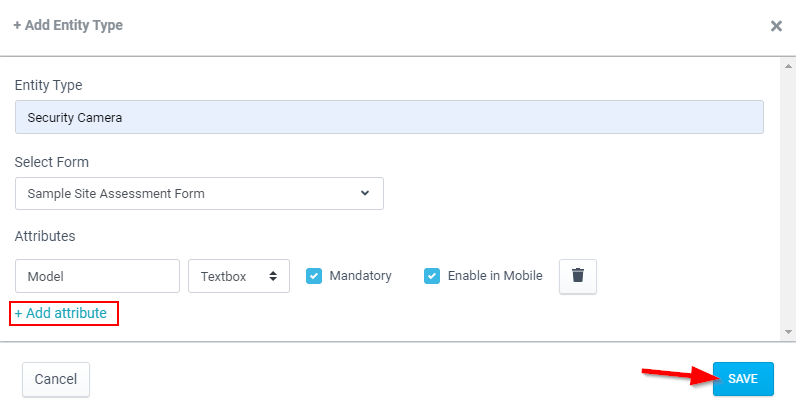 The saved entity type and it will show up in the entity types list.
Linking Entities to Customers
Created entity types and attributes can be linked to a customer.
Navigate to – CRM > Customers
Open customer details view by clicking the View button.

In the Location tab, click the dropdown button on the right. Select Add Entity.

Add entity details

Pick a Location
Select a Site from the dropdown.
Select the Entity Type.
Give the Entity a Name & Description.
Enter the required Entity Attributes.
Save the entity.