How To Customize Inspection Settings?
ReachOut can be configured to work the way you work.  We recommend you change ReachOut's default settings as soon as possible and customize them to match how your organization works. There are three global settings that control Inspections.
Custom Status codes
Custom Rules
Custom Categories
Access the Inspection Settings
To Customize any of these Inspection settings, first navigate with the left-hand menu as follows:
 Settings  >  Preferences 
From Preferences, choose the tab at the top of the page called "Inspection Management." (Bubble 1 in the screenshot.) Now you are able to change any of the the 3 settings for inspections.
1.) To Customize Status Codes
On the page, click the Section Heading "Custom Status". Here you can change the color for each Status, by using the color selector in the first column. You can also delete unnecessary statuses using the trash can icon at left side of the row. To give a status a different name, press the pencil icon, edit the "Status Title" and save the change by pressing the green floppy disk icon.
Indicate if the status is to be treated as being in a "Closed" status by putting a checkmark in the box in the Closed column while in edit mode. At present, there are a maximum of 5 status allowed.
2.) To Customize Inspection Rules
Custom Rules are used to automatically change the status of a Inspection as it is acted upon by users.
Open the Custom Rules section by clicking the section header to expose the Custom Rules currently assigned.
To associate a system event with a status, click the pencil icon (Bubble 2) for the event and select the status in the status column (Bubble 3) that is to apply.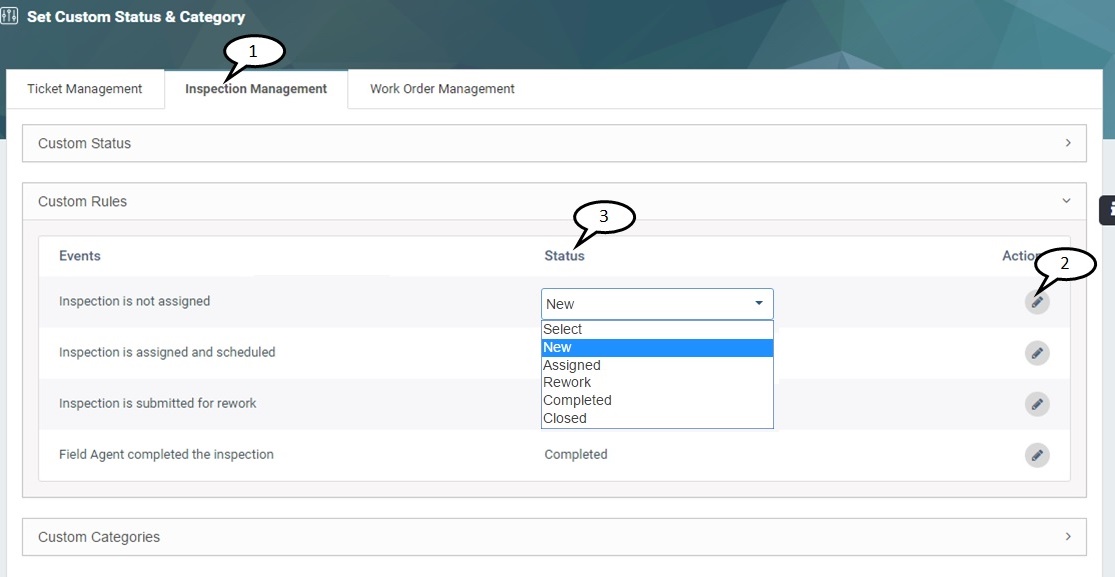 | Call Out # | Inspection Management |
| --- | --- |
| 1 | Inspection management section, to customize inspection orders |
| 2 | Edit button to change status rules for events |
| 3 | Status options for an event |
3.) Customize Custom Categories
Create categories and name, and classify them using the terms that are appropriate for inspections in your organization. These categories help you sort and filter inspections in online views and in reports.
You can have as many categories as you want.
First click on the Custom Categories section of the page (Bubble 2), to expose the current category settings.
Create new categories by adding them in the box at the bottom of the list (Bubble 4). Save the new category label by pressing the diskette icon.
Edit the name of a category by pressing the pencil icon next to it in the list. Delete the label by pressing the trashcan icon. (Bubble 3)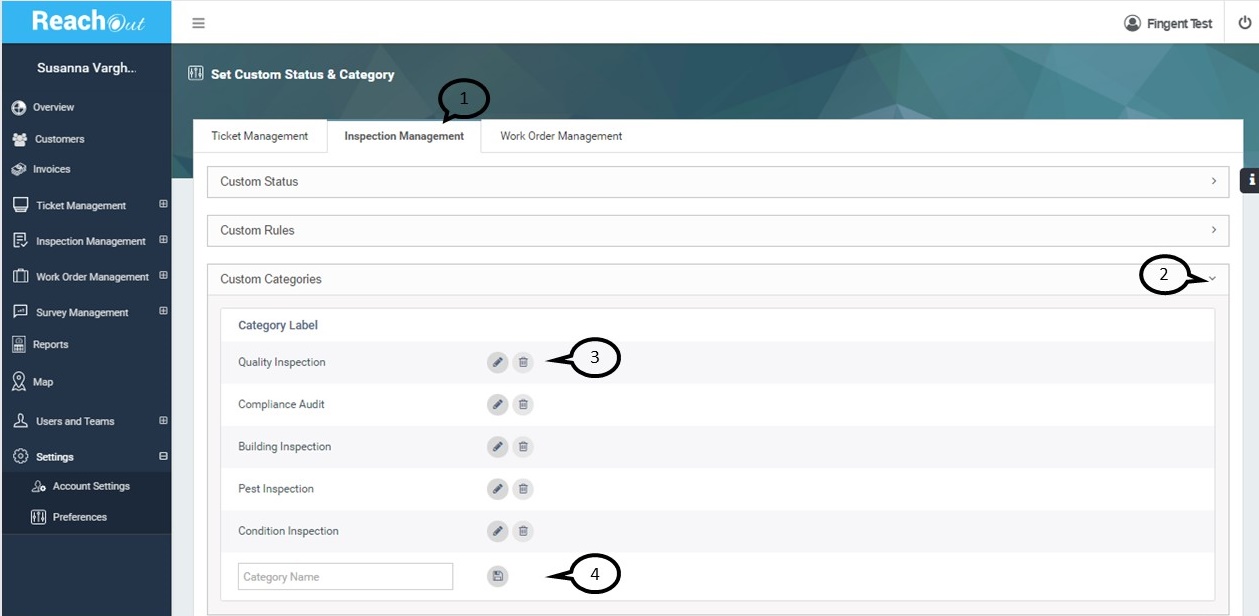 | Call Out # | Description |
| --- | --- |
| 1 | Exposes the inspection management module's preferences |
| 2 | Opens the section for Category names |
| 3 | Renames or deletes existing categories |
| 4 | Creates new categories for inspection |