How do I Create a Ticket?
A ticket is any traceable note, inquiry, request or information that you would like to have on record. Tickets are assigned to Admins.
ReachOut -> Ticket Management -> Ticket Home -> Create Ticket
If you have added the customer earlier, Search for the Customer by adding 3 or more characters of the Customer Name or Customer ID in the search box or else you can directly add a customer from here.


Fill in all the mandatory (*) fields.
Ticket Subject, Description.
Set Priority – Low, Medium, High, Critical
Set Status – Unassigned, New, Execution, Review, Closed, Archived (Status can be customized. Here's how.)
Select Source – Email, Phone, Ticket, Inspection, Work Order, Other (This will allow you to track from where the request has come)
Set an assignee for the Ticket. Tickets are assigned to Admins.
You can also specify categories if required
And Save!
You can view all your Tickets at Tickets Home.
What are Attachments & Links?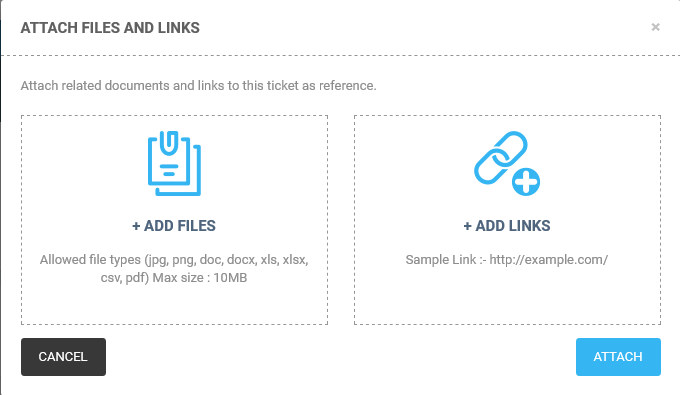 Attachments can be of file types – jpg, png, doc, docx, xls, xlsx, csv and pdf.
Maximum size of the files you can attach is 10 MB.
Add sample links to relevant websites or similar sources.