How can the Scheduler be used to manage, edit, and dispatch AWOs?
On the Scheduler, you will be able to manage, edit and assign AWO to the desired crew/agents.
An AWO will be displayed as seen below on the scheduler. You have the option to group all tasks related to a single AWO together on the calendar by simply checking off the Display Work Order & related Tasks together on the Calendar option.
You may also edit Tasks by clicking on the individual tasks listed on the right-hand side panel.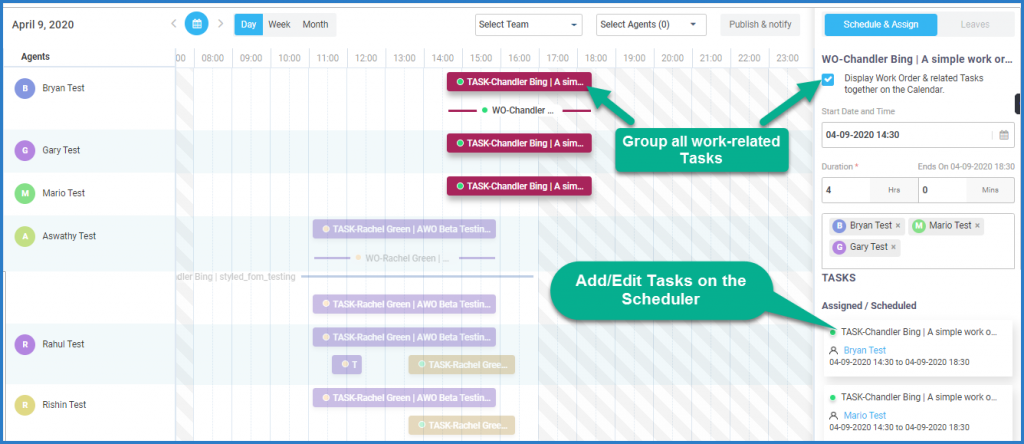 Managing and Updating Unassigned/Unscheduled AWO and Tasks
You can also manage and update Unassigned/Unscheduled Work Order and Tasks from the Scheduler.
To edit an unassigned work order –
Click on the unassigned work order under the Schedule & Assign tab.
Enter the Start Date & Time and set the Duration of the job in the appropriate fields.
Add desired agents from the drop-down list.Tasks will generate at the bottom of the side panel, which you can edit further if needed.
To edit a Task, click on the individual Task which will open up the Manage Agent Task(s) pop-up window where you may update the Task Name & Instructions, Agent(s), Start & End Time and enable/disable the Fill out Task Form(s) button.
Click Update Task once done.