What is the Inspection Home view?
Inspection home view displays all the inspections that are added in the system. You can filter the list to view inspections that are important to you. It can be filtered based on criteria like priority, date and so forth. The Inspections can be viewed as a list or as cards in a grid.
You can access a more detailed view of an Inspection and create similar new inspections for a customer. Or create an inspection from scratch.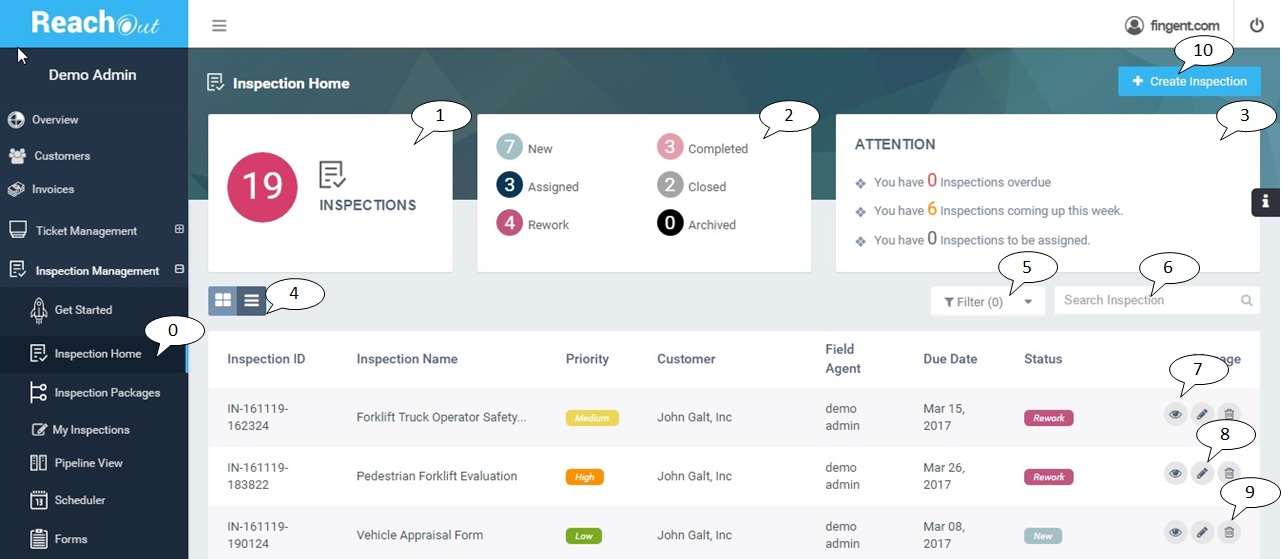 | Call out # | Description |
| --- | --- |
| 0 | Inspection Home where you can view all the Inspections in the system |
| 1 | Total Number of Inspections that are currently in the System |
| 2 | Inspections Categorized |
| 3 | Inspections Needing Quick Attention |
| 4 | View Inspections as a grid of cards or as a list |
| 5 | Filter the Inspections based on priority, date, technician and sort the list |
| 6 | Search for an inspection based on either the last three digits of an inspection or Customer name |
| 7 | View Inspection Details |
| 8 | Edit an inspection order |
| 9 | Delete an inspection order |
| 10 | Add an Inspection order |