Reviewing a Job
As a field service administrator or supervisor, you can review and approve a job once agents have completed assigned tasks and marked the job as complete from the Web app. This helps verify that all aspects of the job from tasks to final invoicing have been carried out properly as per instructions.
If all looks good, you can access a job report, customize them, and send it to the customer right away via email from ReachOut. If otherwise, you can send it back for rework.
Review a completed job
Navigate to Jobs > All Jobs.
Click the three dots icon against a job with the status marked as Invoiced, Paid, or Complete. Or else, you can use the Filter option to sort and selectively display invoiced or completed jobs.
Next, click on View from the drop-down.

On the job details page.

Select the Detailed Results tab.
Review each result – Agent Log, Estimates, Invoices, Forms & Tasks.
Click the Estimate or Invoice cards to make any edits.
Click View Findings on Forms to examine the responses indicated.
Select the Media tab to view any images attached to the form.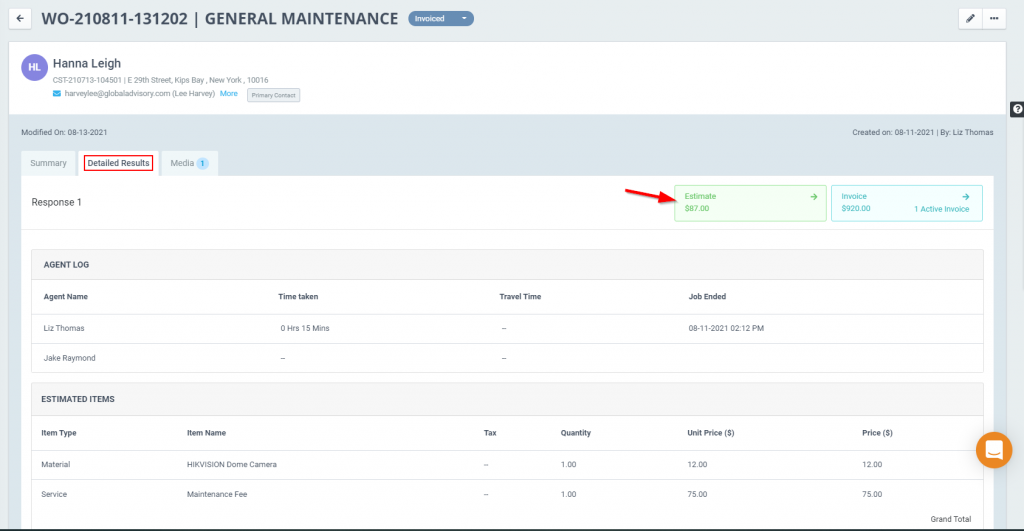 Once all responses and findings are approved, change the job status to Closed.

Apply to Rework
If you find that the work is not done properly or is incomplete, you can mark it as rework and reassign it to the same or different agents.
For that,
Mark Rework in the job status.
Click the pencil icon on the top right to reassign the job with updated instructions at a different date and time.
Click Save Work Order/Inspection.