What's an Inspection?
An Inspection, or Audit, is a structured information gathering activity that is assigned to someone to be performed at a certain location and time.
In ReachOut, an Inspection can be constructed with inspection elements according to the needs of the organization. These elements are schematically represented in the following diagram: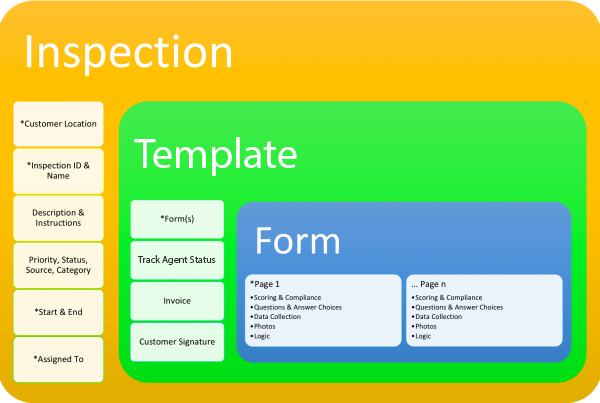 A user with the "Admin" role creates and assigns an Inspection. The items preceded with a asterisk (*) are those needed to define the simplest Inspection in ReachOut.
Items in the green Template box can be organized in any combination and may contain one or more Forms. Forms and Templates can be constructed in advance and named for easy re-use, or created on-the-fly. Named Templates and Forms, then, are short-cuts for putting together a complex Inspection.
Forms
Each Form can contain 1 or more pages of questions. Pages can be presented or hidden during an Inspection based on the answers provided by the person conducting the Inspection. A Form will structure the questions used to gather information. Forms may be associated with a Site (e.g., a plant) and/or an Entity (e.g., a particular piece of equipment). The Field Agent can be asked to provide a cost for correcting findings uncovered during the inspection. See Customer Management topics for more details about Sites and Entities.
Here is a short description of the main Inspection header elements:
Customer Location – name what is to be inspected. See Customer Management topics for more details.
Inspection ID & Name  – uniquely identify the Inspection.
Description & Instructions – a narrative about the Inspection.
Priority, Status, Source, Category – optional attributes for an Inspection
Start & End – the required start date and time and the end date and time in which the Inspection must be completed.
Assigned To – this is a user with the "Field Agent" role. Inspections assigned to a Team must ultimately be assigned by the Team Manager to a "Field Agent.
Here is a description of the Package elements:
Form – At least one form is required. More can be included as part of a single inspection, and each form may be associated with a Site or Entity.
CheckIn / CheckOut – used to track the time a "Field Agent" is on a worksite, taking break, or en route. Can be enabled as an optional or mandatory requirement for the Field Agent.
Invoice – a mechanism for creating an Invoice for the cost of the Inspection. Can be enabled as an optional or mandatory requirement for the Field Agent.
Customer Signature – gives the Customer a way to electronically "sign" using a fingertip on the screen of the smartphone app. Can be enabled as an optional or mandatory requirement for the Field Agent.
Field Agents Signature – the agent can add their signature to the inspection upon confirming his inspection is completed