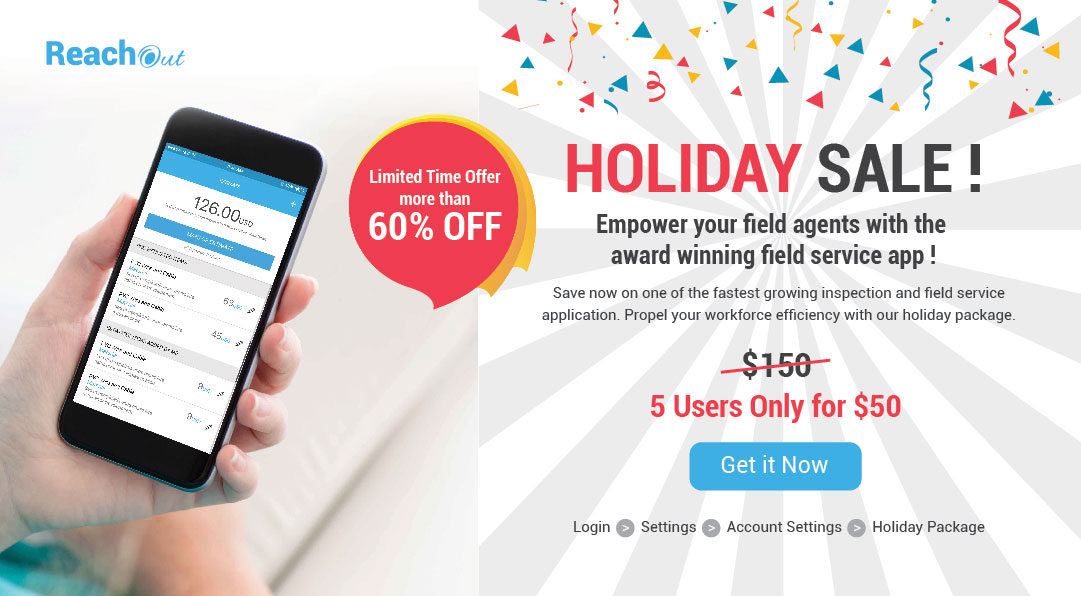 The award-winning field service app offers a limited period, festive discount for its subscribers!
ReachOut, the fastest growing field service and inspection app has announced a festive offer to encourage better technology adoption in field service, audits and work order management.
White Plains, N.Y.; December 2017 –
The Rising Star 2017 and the Great UX award winner app, ReachOut has a limited period offer in which they are offering free app usage for 5 users at just $50 instead of the actual price $150. This is a great news for field service companies as they can try out the app to see its compatibility with their business and further narrow down on their technology choices.
ReachOut is an affordable field service organizer. The SaaS solution offers the latest technology and features in mobile and internet technology enabling service organizations to manage work orders, inspections, incident reporting and surveys, quickly and efficiently. Organizations can get started readily, with no additional cost, equipment or resources. In this offer, the company provides full feature access and there are no hidden charges or "conditions apply".".
Service industries face a lot of challenges relating to competitive pressures, first-time fix rate, compliance, performance management, work order management and a lot more. Many companies are still reliant on paper-based approaches or spreadsheets or have old systems and solutions that are either too complex or not helping the current operations of the company. Certain times it is difficult for these companies to realize what they want, which technology would work best or how the mobile-based technology solution would help them increase their ROI. To help companies understand how a field service solution can simplify their processes, introduce the latest technology features and benefits of mobile apps in the industry, and encourage the use of cutting-edge technologies to make operations simpler and efficient, ReachOut has formulated this cost-effective, try-out offer for its users for a limited period of time.
ReachOut: Inspection & Work Order Management Software
Do you still use paper or Excel spreadsheets to manage your service business? ReachOut is a web and mobile solution for companies to schedule, dispatch and deliver inspections, work orders, ticketing and more.