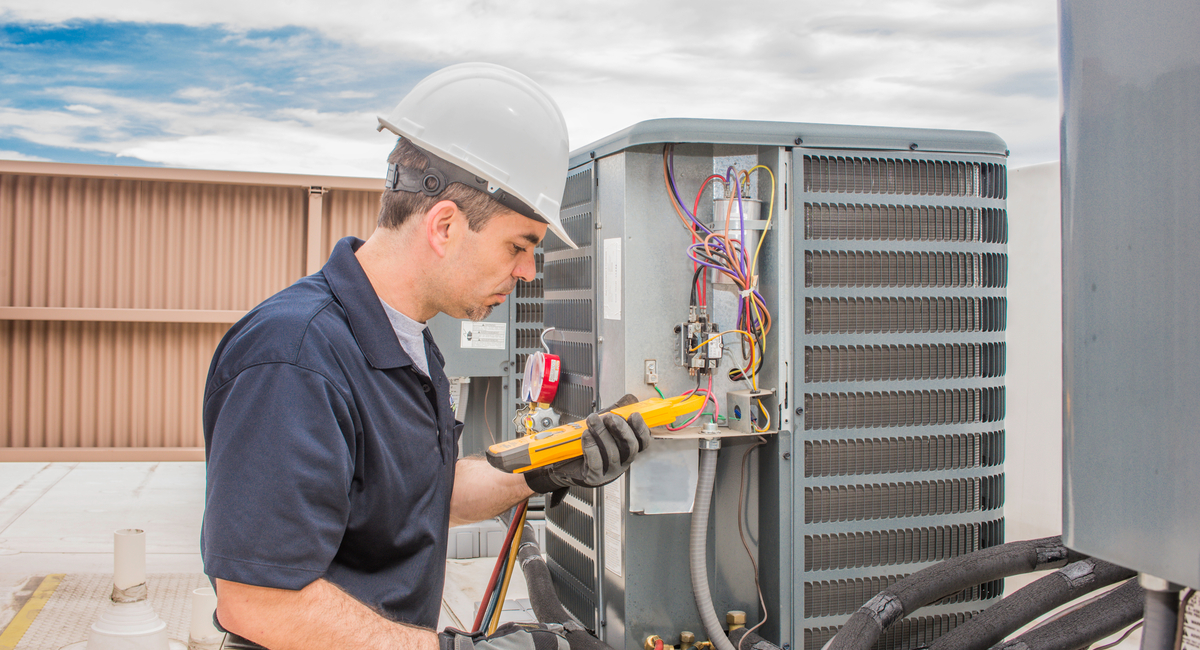 How FSM empowers the HVAC industry to tackle business challenges
The heating, ventilating, and air conditioning (HVAC) industry is evergreen. Mordor Intelligence reports that HVAC services had a market value of USD 54.74 billion in 2019, and is expected to grow up to USD 78.10 billion by 2025. Like any other industry, the HVAC business is also amid major disruptions. Frequent changes in technology, customer preferences, and business environment force change in HVAC. The only way to survive is to shape up or ship out.
Here, we list down the top 5 challenges that impede the HVAC operations and suggest a few solutions to overcome the obstacles. 
Related Reading: Running HVAC Business In 2020: What You Need To Know
1. The Challenge of Scale
Global warming and climate change offer new opportunities for HVAC businesses. Soaring summer temperatures and freezing winters keep increasing the demand. The US Department of Labor estimates the creation of 46,000+ new jobs in the HVAC sector, over the next ten years. However, opportunities are accompanied by challenges. 
Many HVAC businesses operate on a centralized, ad hoc basis which limits their capability to upgrade to a modern digital system, for serving customers on a larger scale. A customer who has for long in the freezing winter to get his heater repaired will not hire the same provider the next time. Similarly, customers who come to you through some promotion and later find the service to be poor will immediately leave you and post negative reviews.
The solution:
Align marketing initiatives to resource availability

Invest in software covering CRM, field management and other enterprise systems. 

Installing a field service software will bring changes to process-driven operations, improve efficiency, and better scalability.
2. The Skill Shortage
Increasing skill shortage is one of the major challenges faced by HVAC businesses in 2020. As the Baby Boomers age and retire, businesses face a shortage of competent replacements which increases the demand for skilled personnel. With the changing work preferences of the Millennials, only less number of fresh graduates opt HVAC as a preferred career.
The solution:
Collaborate with schools and vocational institutes to arrange internships and mentoring programs to develop in-house talent.

Offer in-house training to augment the skills of the existing workforce

Transform the company into an attractive workplace, to retain talent

Invest in a field management suite with augmented reality and collaboration capabilities. It allows novice field technicians to connect with expert technicians engaged elsewhere.
3. Challenge posed by changing technology
The HVAC business is capital intensive with initial set-up costs ranging anywhere between $2,000 and $10,000. It is a huge challenge to infuse more capital to keep the business running.
Today's increasing focus on green technology demands high:
Heating solutions fueled by hydrogen or geothermal energy

DeVAP or "Desiccant Enhanced Evaporative", that provides cooling by using an evaporative cooling system.
The solution:
Replace conventional gasoline or energy inefficient machinery with eco-friendly alternatives.

Roll out eco-friendly products and services and change the style of work.

Find out industry trends and position the strategies and offerings.

Invest sufficiently to set up new technology.
Related Reading: HVAC Technology Trends: Market Growth and Utility of HVAC Systems
4. Challenge of changing customer preferences
With smart technology, portable devices, and gadgets, the lifestyle and expectations of customers are undergoing a rapid change. Smart homes, powered by Amazon Alexa, Google Home, and other smart digital personal assistants are getting integrated into our homes. Newer gadgets such as Nest Thermostats take usability to a new dimension through automation. 
These changes force HVAC systems to change their control mechanisms and reporting methodologies, thus casting a spillover effect on HVAC companies. Hence it is essential for HVAC businesses to overhaul their skill-sets and offerings.
5. The challenge of flexibility and adaptability
HVAC businesses often face erratic workflows with unpredictable maintenance and repair requests popping up at any time of the day. Sometimes, your business will have more service requests to attend within a week, beyond what you generally schedule per week. Likewise, you might not have a single client to serve in a week. Such kind of erratic workflow results in productivity issues. Customers demand customized and personalized service and look for extensive information about the company and the product before availing service from them. They expect to engage with informed customer agents and dislike delays.
The solution:
Schedule routine annual maintenance contracts servicing during lean periods.

Leverage emerging technology such as IoT sensors to predict breakdown. Proactive repairs preempt emergency scenarios.

Deploy business software solution to manage workload. The system schedules call matching workloads. 

Bots improve customer engagement, answering customer queries without taking away an employee's time.
How a Field Service Suite helps:
Field service software can help you overcome these challenges. It enables HVAC business owners to manage and automate processes related to:
Fleet and technician despatch schedules

Real-time tracking and scheduling of field technicians and equipment

Optimization of schedules

Seamless scale-up to handle customer requests and distribute routine jobs

Matching technician workloads and assigning the best technician for a job
Related Reading: Field Service Software To Keep Small HVAC Business Competitive
ReachOut Suite improves operational efficiency in field service management by eliminating paperwork and streamlining processes through digital forms and workflows. To find out how ReachOut can impact your bottom line and transform your HVAC business, contact us now. 
ReachOut: Inspection & Work Order Management Software
Do you still use paper or Excel spreadsheets to manage your service business? ReachOut is a web and mobile solution for companies to schedule, dispatch and deliver inspections, work orders, ticketing and more.