Configuring Customer Hub
The Customer Hub is a platform through which the ReachOut Accounts/Service Providers can offer their customers a convenient way to raise service requests, track status and follow-up on Jobs. A direct URL to the Service Request Form can be shared with the customers or be directly embedded to the Service Provider's website. It enables direct communication between the ReachOut Accounts and their respective Customers or Leads.
Enabling Customer Hub in ReachOut Account
Customer Hub can be easily enabled from an Account's Settings page. This allows for the ReachOut Service Providers to utilize the feature when they are ready to service customers via the Hub.
For this, navigate to – Settings > Customer Hub
Click on the ON button.
Consequently, the Customer Hub related modules will appear on the side main menu.
Configuring Customer Hub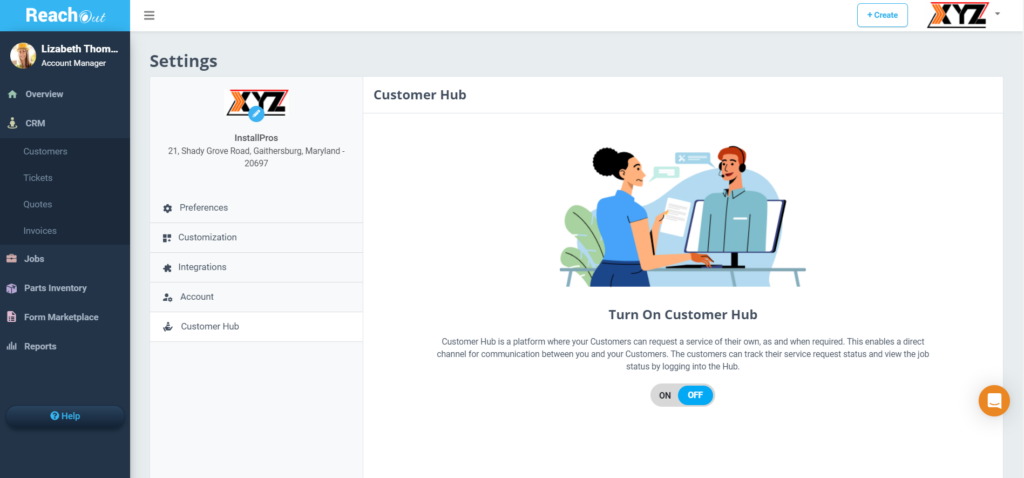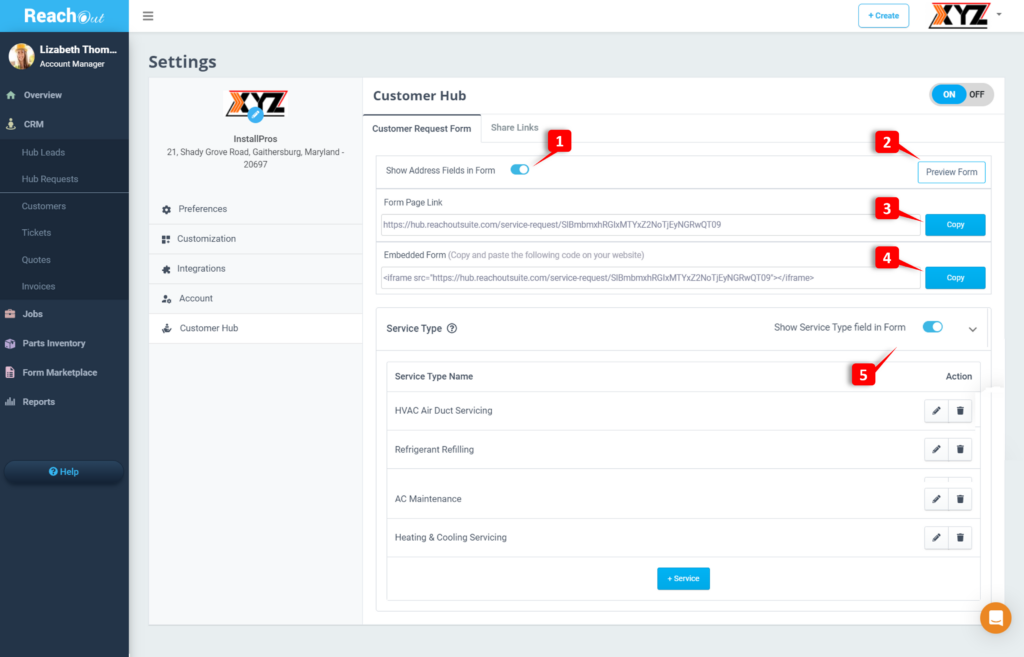 Once the Customer Hub is enabled in the Account, the Service Request Form can be set up. The Service Request Form is the form that the end-users fill out to request access to desired service & to the Customer Hub.
Toggle the 'Show Address Fields in Form' option if the address fields (Address line, City, State, and Zip Code) must be displayed in the Service Request Form.
Click on the Preview Form button to preview the Service Request Form.
Click on the Copy button in the 'Form Page Link' section to copy the Service Request Form page URL and share it with the customers directly, allowing them to fill out the Service Request Form.
Click the Copy button in the 'Embed Form' section to copy & paste the embed code to embed the Service Request Form to the service provider's website.
Toggle the 'Show Service Type field in Form' option in the Service Type section if the 'Services' dropdown must be enabled in the Service Request Form.

Once the Service Type Is enabled, the desired services offered by the Account can be added.. At least one Service Type must be entered in this section to toggle it and make it visible in the Service Request Form.
To add a new service to display on the Service Request Form, simply click on the +Service button.

Service Providers can also share the direct link to access the Customer Hub to their end users by copying the link listed under the Share Links tab.