How to Create a Simple Quotation?
Step 1: Assigning Statuses
The first step before generating a quotation is to create statuses for your work orders, inspections or tickets. You can add statuses like new, pending or completed and assign color codes for easy identification. To assign statuses,
Log in to your ReachOut account, which will open up the account dashboard. Then go to,
                                   Settings > Preferences > Quotation Management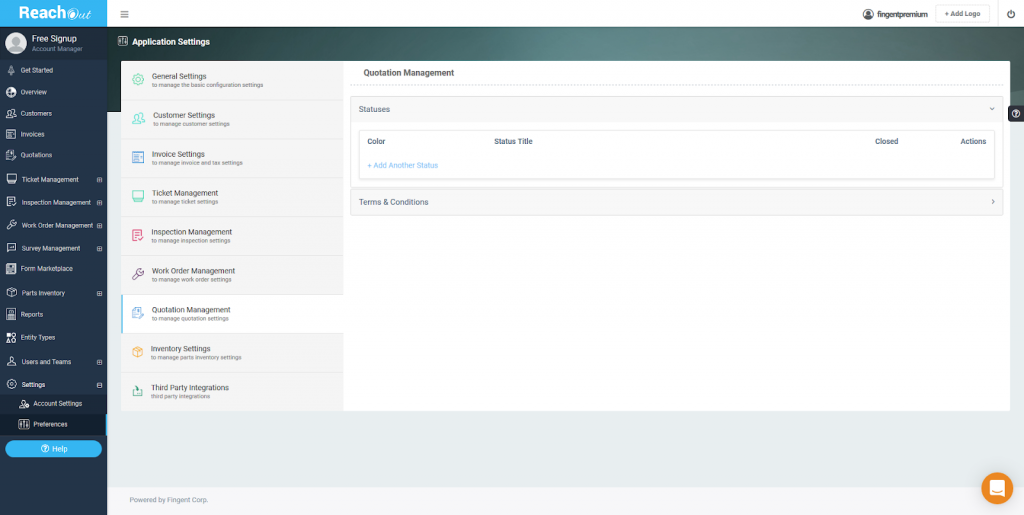 Under statuses click on + Add Another Status. Enter a status title like "new" and pick a color of your choice at the drop-down button nearby to assign a color code to the status.
Click on Save to add your status to the quotation.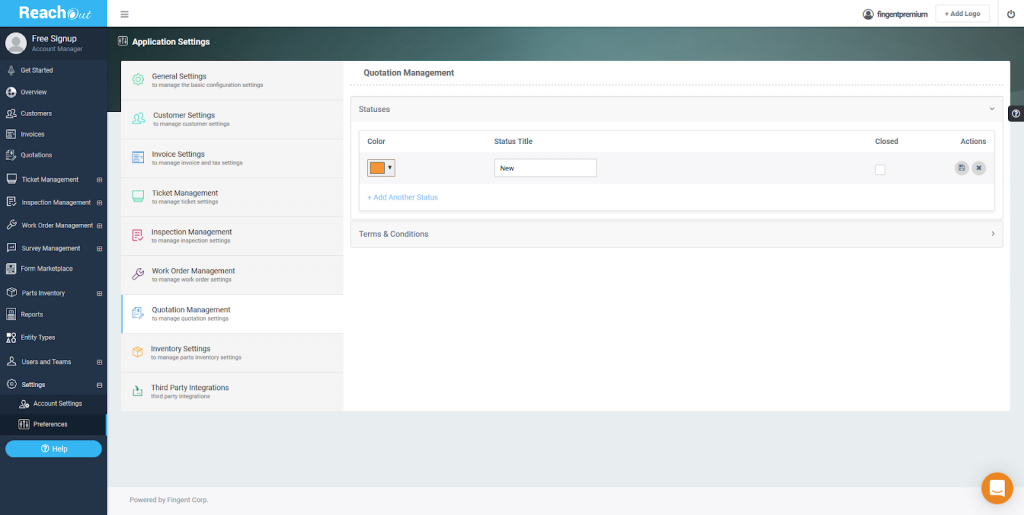 Step 2: Terms & Conditions
It is also important to include the Terms & Conditions (T's & C's)as part of a quotation. Usually, companies provide standard T's & C's as part of a quotation, but ReachOut also lets you modify the terms for a specific quotation.
To add the text for a standard terms & condition, go to,
                                 Settings > Preferences > Quotation Management.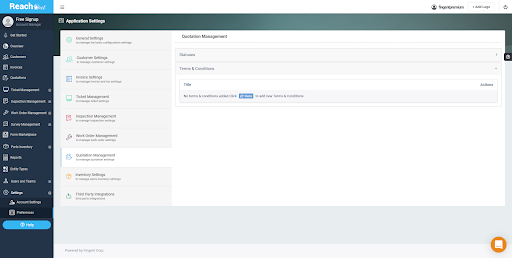 Under Terms & Conditions, click on the Here button, which will open a text editor.
Enter a title and your prepared terms & conditions in the respective fields and click Save.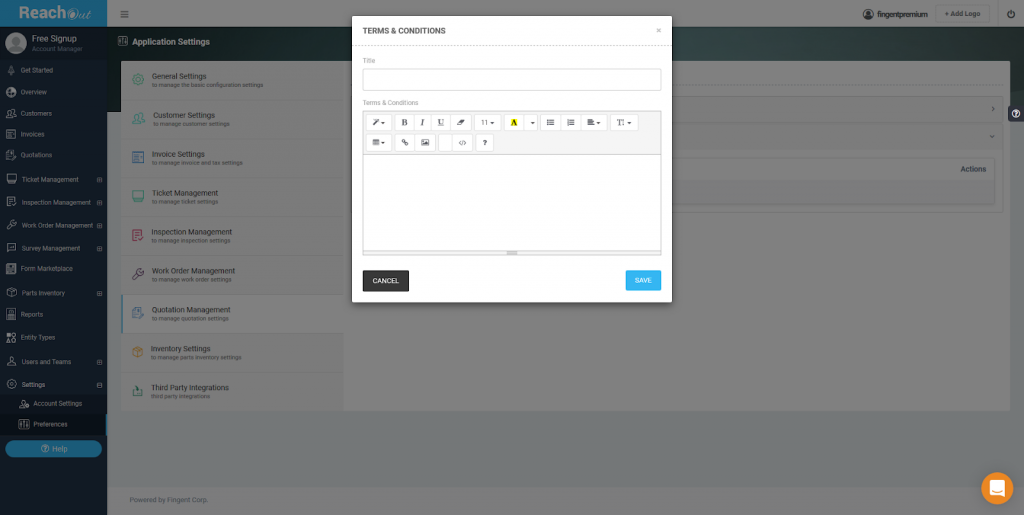 Step 3: Generating a Quotation
After creating the statuses and terms & conditions, you can readily generate the quotation using ReachOut's quotation management feature. Here are a few steps to create a quotation for any of your work order or inspection.
At the account dashboard, click on Quotations to create a new one or view your existing quotations.
Click + Add Quotation located top right, which will open the create quotation window.
Under quotation details, enter your quotation name and toggle the drop-down buttons for Customer, Source Type, Source ID, and Status to select the needed information for each of these fields.
You can attach any related documents to include with the quotation for referencing by clicking on + Attachments. Add in your files like a pdf, doc or png and clickAttach to insert them into your quotation.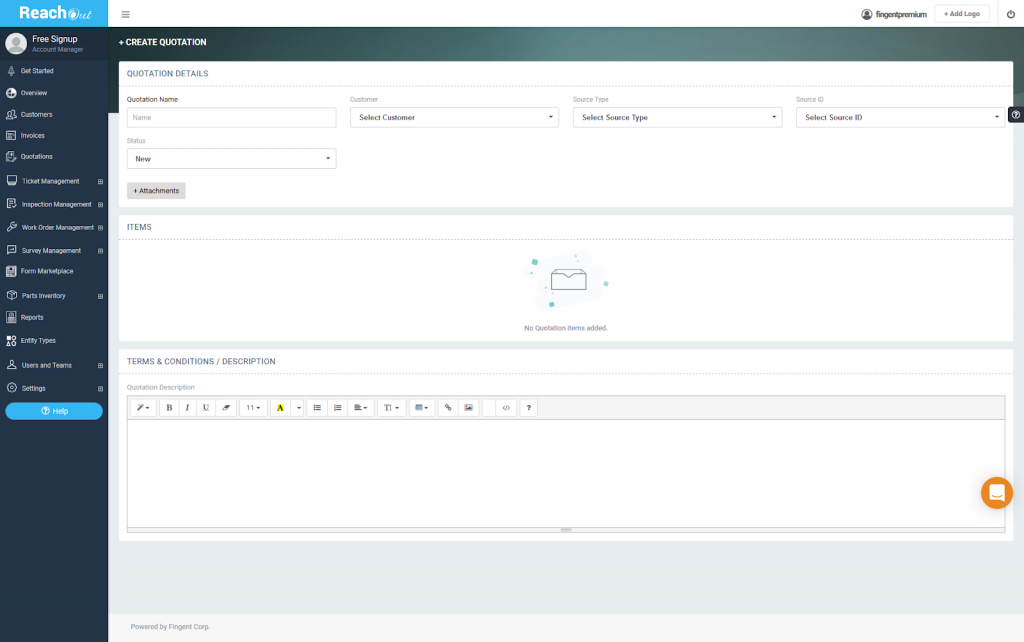 Under the items section, select the Click button and add in details related to your quotation in their respective fields like Item Type, Item Name, Tax, Total Units, Unit Cost, and Cost. Click Save.
Select the template you have created for terms & conditions using the Sample Template drop-down button. You can even add in further details to the existing terms & conditions using the text editor.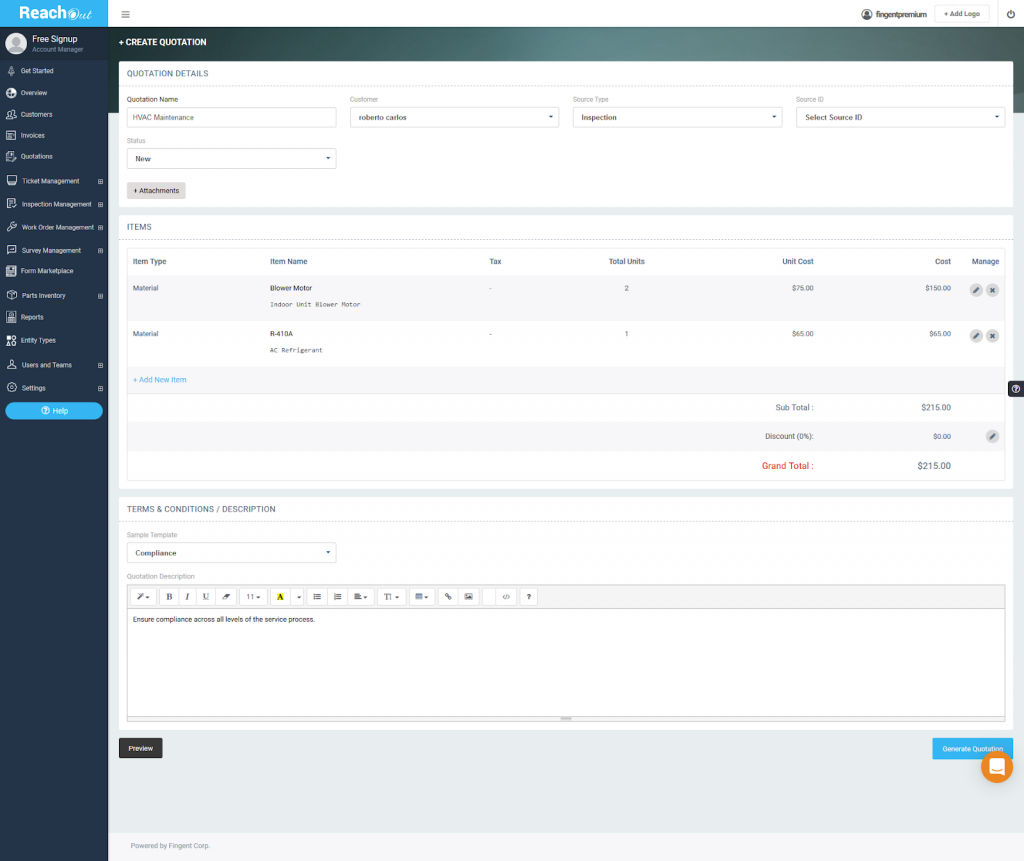 Once done with that, click on Generate Quotation to create your quotation. You can view the newly created quotation in the Quotations menu.