Familiarize yourself with the App
So, you're signed up and ready to go… Almost. You'll want to spend a little time getting accustomed to ReachOut first.
Sporting a plain and easy-to-use interface, ReachOut is designed for usability. Whether you are new to field service software or have already migrated from one, it's easier to get acquainted with ReachOut's inbuilt tools and features.
When you log in, this will take you to ReachOut's Overview page where all essential information is organized within reach. (For first-time users, ReachOut has set up some sample data added for you to play around with.)
Here's how the main dashboard looks like: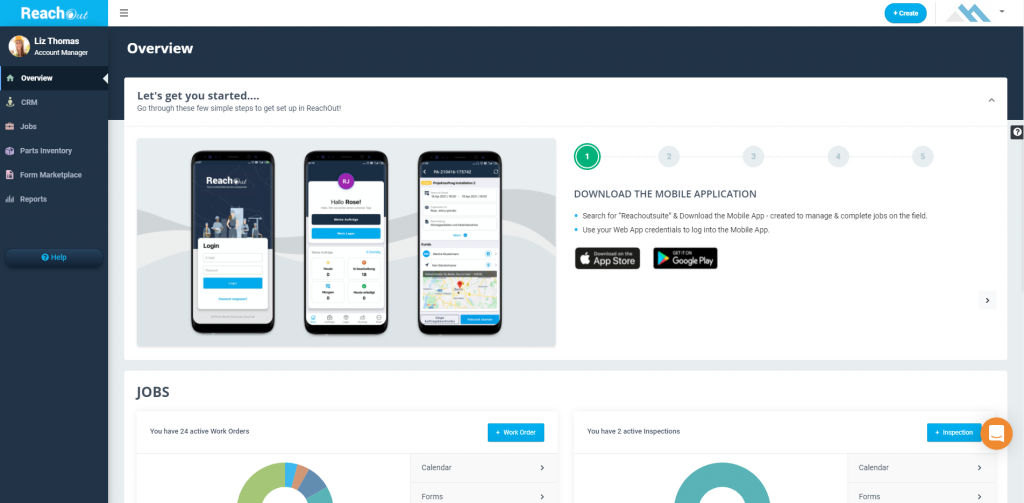 Organized vertically on the left of the interface are ReachOut's main features.
Two doughnut charts in the middle display all active, due, and completed jobs.
Pinned to a map are all active work locations and sites for easy identification.
ReachOut is extremely adaptive. You can use some or all of the ReachOut features. You can configure ReachOut for simple use-cases or accommodate rather complex requirements, depending upon your organization's needs.
Here, we'll take a peek into the functions of each feature in ReachOut.
CRM – Centralizes all information about every customer, ticket, invoices, and deals that you've added to the system.
Jobs – Used to schedule and dispatch personnel to assignments in the field, with necessary instructions and forms to collect data.
Parts Inventory – Helps you manage spare parts used by your field agents to complete their tasks, add or update stock, allocate parts and returns.
Form Marketplace – Access predefined styled forms or request custom forms for easy data gathering suitable for a wide range of industries.
Reports – Create detailed reports of completed jobs recording all activities performed, transactions, and time logs of field agents.
All ReachOut features are integrated and can be used together.
This page gives only a flavor of how to work with ReachOut. Spend some time learning more about ReachOut…we've only touched the surface. Try things out. You won't break anything.
At any time, you can get context-sensitive help by clicking the icon in the upper-right edge of the ReachOut window.

Still, have questions? Need help? Got suggestions? Contact us at – [email protected]
We also offer a free demo of ReachOut to help you get acquainted with the platform and better understand its functionalities. Schedule a personalized demo by filling the form here.