How do I sign up?
Welcome to ReachOut!
Set up an account with ReachOut by subscribing to our paid plans.
It's easy. There's no risk. Click here to sign up.
ReachOut Standard
ReachOut Standard gives you complete access to all of the high-end features of the application. Add the desired number of users, take advantage of the premium ReachOut features, and avail 3+ GB of upgradeable storage.
As a paying customer, you also become eligible to access our premium support services and the comfort of knowing you will have a rapid response when you need it the most.
To sign up for ReachOut Standard,
Go to reachoutsuite.com and click Sign-up on the navigation bar.

This will take you to the Sign Up page.

Fill in the mandatory* fields in the form.
Review the Terms of Use and Privacy Policy. Check off I accept.
Click Proceed with Sign Up.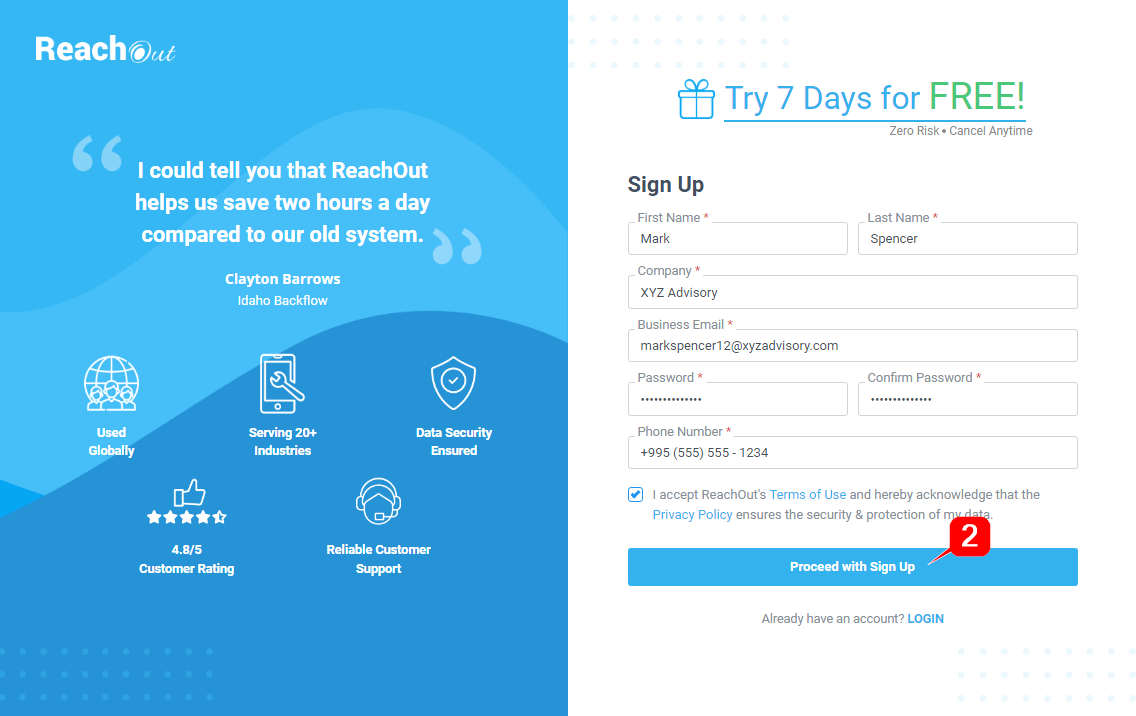 That's it. You've activated your ReachOut account.
Now log into ReachOut's web and mobile app and use it for free with full access until the trial period expires.
Post the trial period, you will need to update your credit card details to continue using the app as a paid customer.
Note: You can update your credit card information anytime during the trial period.
Learn more about managing your ReachOut account, adding users, and updating payment details here.
Visit our Pricing page for more information.
ReachOut Enterprise
ReachOut Enterprise is the ideal option if you need a customized and white-labeled instance of our software that can be integrated into your current workflows and systems.
Know more about ReachOut Enterprise and customize it for your business needs. Get in touch with us here.
Send us an e-mail to [email protected] and we'll be happy to give you a demo of all that ReachOut can do for your business. At no cost!