What are Digital Forms?
Digital forms are electronic versions of paper forms that are used to collect data. In ReachOut, digital forms streamline the field data gathering process by enabling your field agents to record information swiftly and accurately using their smartphones or tablets.
As a fast and secure way of collecting data, digital forms eliminate paperwork hassles in the field and reduce manual entry by pre-populating data. By turning a smartphone into a reliable data collection tool, digital forms allow your field personnel to gather data via simple actions such as marking checklists.
Being workflow-driven, digital forms are readily customizable based on the work with checklists, questionnaires, and conditional logic. Additionally, they also give field agents the ability to annotate photos from the job site to show proof of work or simply highlight a problem.
Digital forms come in two flavors – Styled and Standard forms.
Styled Forms: If you are using your own paper forms to conduct services, maintenance, inspections, audits, etc, we can get them digitized and company-branded.
Simply send us a copy of your forms to convert them digitally. We stylize the forms accordingly by also auto-populating basic information that you need to display for each field service work that your technicians carry out. Saves paper and time, all the while increasing efficiency.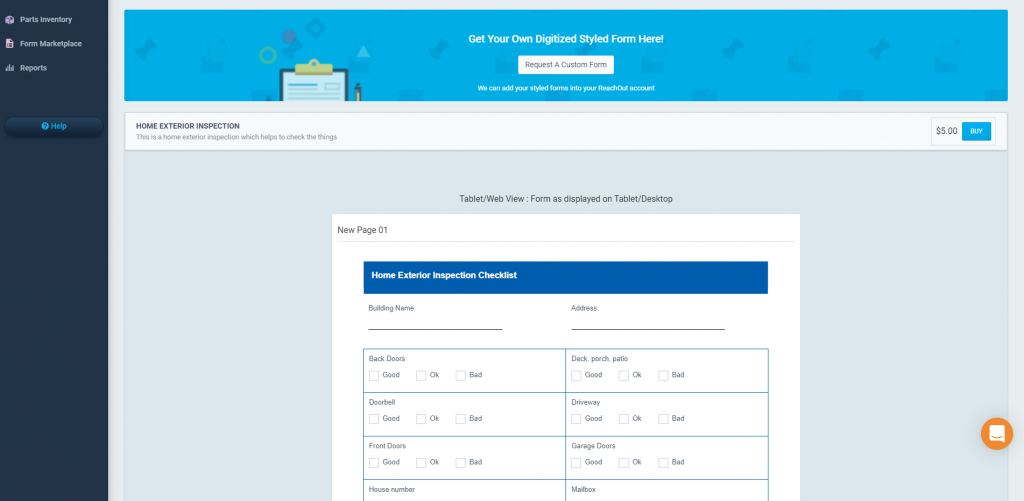 Standard Forms: ReachOut gives you the ability to create your own questionnaire forms using various types of questions provided (multiple-choice, radio button, drop-down, text box, etc.) that covers basic operations and guidelines suitable across a wide range of industries.