What is a Work Order? A simple work order explained
A Work Order is a task or job for a customer that can be scheduled and assigned to someone. The term is commonly used in the Field Services Industry, where Work Orders or Jobs are assigned to Field Technicians. Work orders assign field technicians with different tasks such as equipment installations, repairs or maintenance works
Usually, Work Orders are the result of a customer request. However, in many cases, Work Orders may be a follow-up action from an inspection or audit carried out before. Here are a few examples that signify an actual work order:
A property inspection may indicate the need for several repairs- roofing, plumbing, landscaping, electrical etc.  Here each repair may be an individual work order.
An Occupational Health and Safety Assessment ( OSHA inspection) indicates the need to replace signage,  change lighting, remove hazardous material, de-congest stairways etc. –  each of these items, could be a work order.
A planned maintenance check on manufacturing equipment indicates the need to change parts, add lubricants, and tune components – which can be one or more work orders.
A Work Order provides a description of the details of a job. Work order assignments can be simple. A simple Work Order requires only the five elements shown in gold in the figure below. All the other elements are optional.
The use of Forms and Templates helps in managing them with ease.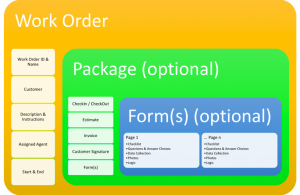 For example, Forms are not required, but one or more Forms can be used to organize or document activities with customized and reusable checklists. Forms can contain pages that can be used to give "logic" to which items in a Form will be presented.
Other optional items, shown in green, such as an Estimate (or Quote), can be included in a Work Order. When a common set of optional items are often used, they can be grouped as part of a named Template to speed their inclusion in the Work Order.
Try ReachOut and see how you can optimize your service business for improved efficiency. Sign-up for free to get started!
Contact Us Now!
A Simple Work Order Defined
The following example from the residential property management industry will give you a rough idea of how a simple work order is planned and executed through a workforce management software.
Consider the example below, from the residential property management industry.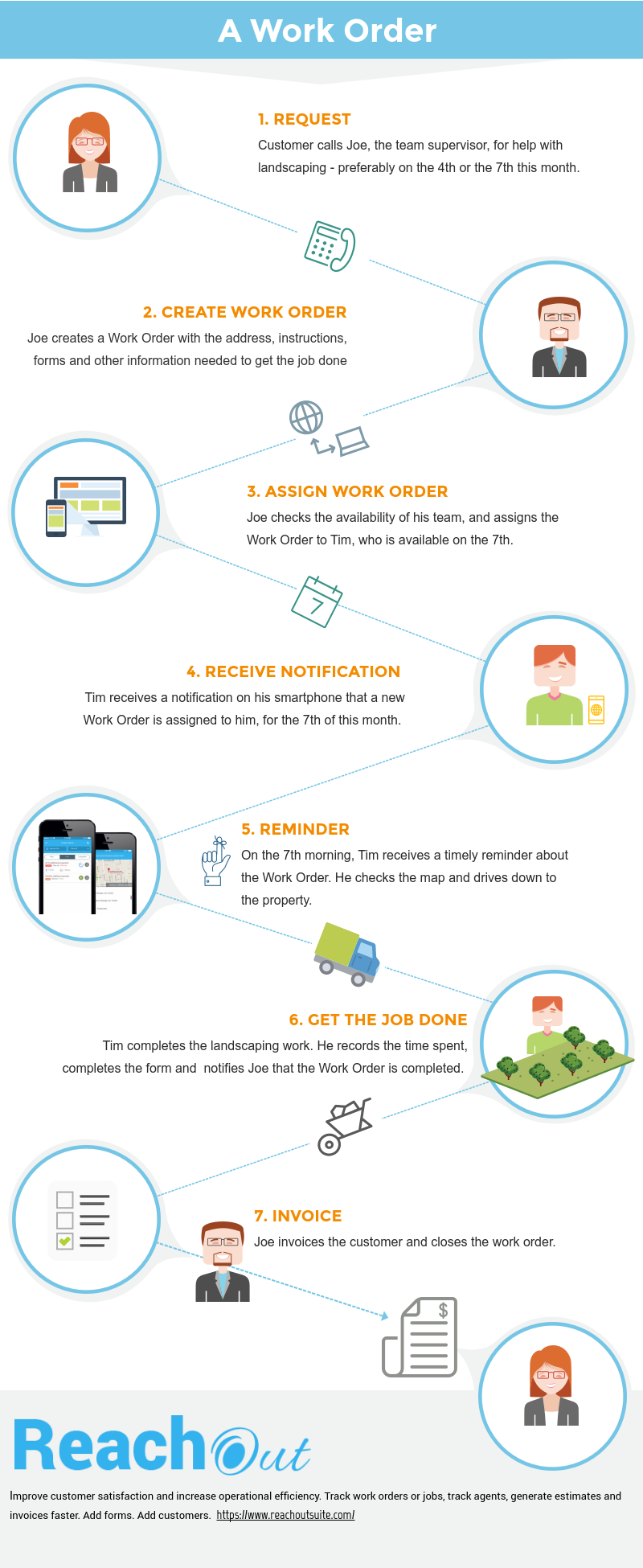 Joe, the team supervisor, receives a request from a customer for support with landscaping in his/her premises.
Joe creates a Work Order and assigns it to Tim, who works in Joe's team. There are many ways to assign a Work Order – via phone call, SMS, or using a professional Work Order software like ReachOut. Using a tool like ReachOut makes it easier for Joe to identify an appropriate date and time, and also to give Tim the address, the lockbox code and other information that he may need to complete the Work Order.
Tim records the information from Joe, and on the agreed date drives down to the customer's property to carry out the scheduled landscaping works like clearing debris. A work order software like ReachOut can ensure that Tim reaches the exact location of the customer at the prefixed date in his calendar with a set of instructions. ReachOut works with Maps to help Tim find the best route to the customer's property. ReachOut also sends notifications, so that Tim receives a timely reminder about the work order.
In most professional field service companies, field technicians like Tim would fill out a form with information about the work executed at the property. Such a form may include – check in and check out times, a checklist for the job and some notes. Some companies may require customers to sign the form, to confirm that the job was done. All this information can be captured on paper or using a work order management app on Tim's smartphone. Using ReachOut, Tim can also take photos with GPS coordinates, to provide proof of work if needed.
Once the work order is executed by Tim, Joe can invoice the customer for a job well done. Work order software like ReachOut help create and send invoices to customers easily.
Manage your work orders with ease using ReachOut's prolific work order management platform. Try it now for free and see how ReachOut can influence your outcome.
Contact Us Now!
Transforming with Work Order Software
Traditionally, work orders were assigned over phone calls. Instructions and forms were managed using paper and pen. Some companies use laptops to record forms. However, these days service businesses are upgrading to work order software and field service management software like ReachOut. Available as a web backend and companion mobile app, ReachOut allows field technicians to receive instructions, forms, notifications, addresses via their smartphones or tablets.
"It is time that service businesses move ahead with technology and implementing a work order software is one step to the process. The level of convenience it brings together with efficiency improvements and workflow optimization helps get more done in less time alongside the plus point of added customer satisfaction."                                                                                       Stephen Cummings, SVP, ReachOut Suite
They can easily add job information, annotate pictures, take customer signatures and manage their own work with ease. Such systems provide supervisors the ability to manage their teams from anywhere in the world. Besides, ReachOut also allows business owners to create multiple teams with different supervisors.
Work Orders are the essence of an organization. Hence, maintaining a streamlined and hassle-free work order system becomes necessary to ensure the growth of an organization. A smart work order software like ReachOut not only eases maintaining work orders but also prevents wastage of time and money.
Further reading: